ALTAR OF PERVERSION – INTRA NAOS 3LP (The Ajna Offensive / Norma Evangelium Diaboli)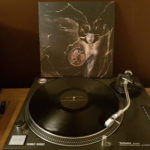 The average running time of the six tracks on Altar Of Perversion's second full-length – and first in 17 years – is a whopping 19 minutes. At approximately 114 minutes long, 'Intra Naos' is Black Metal's equivalent of the Grand National – mid-to-fast-paced and grueling, not for the meek.
Essentially three albums in one, it's a demanding but immersive and deeply rewarding affair – the kind of treat that seems to be unique to this dark corner of the underground. Due to its length and my sadly limited spare time (get the cellos out), I'm finding it really difficult to unlock an opportunity to listen to this in one sitting or to garner sufficient insight to get my head around the album as a whole and thereby deliver any kind of in-depth, informed analysis. Not that I ever do that.
Suffice to say that – although a challenge to accommodate due to its enormous length and equally generous girth – 'Intra Naos' is a monstrously great triple record set and a thing of mysterious beauty that'll I'll be going back to for as long as I'm here.
Evilometer: 666/666