ORMGÅRD – ORMBLOT LP (Final Agony Records)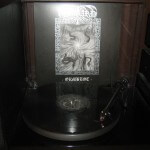 'Ormblot' is a 26-minute demo cassette from 2011, which was released on vinyl last year by Final Agony. The first pressing of 250 copies sold out quickly and a second run (of the same limitation) has since been rubberstamped. The obvious downside of this release is its length – or lack thereof. Twenty-six minutes for the price of a full-length album (probably a bit more, actually, as these aren't easy to get outside the States) hardly represents value for money.
Having said that, Ormgård is on top tune here, delivering some fabulous melodic yet reasonably raw Teutonic Black Metal. It's a really enjoyable listen and I like the fact that the label has included a nice little seven-inch booklet. All ends very abruptly, though.
Evilometer: 444/666