OSCULUM INFAME – AXIS OF BLOOD 2LP (Battlesk'rs Productions)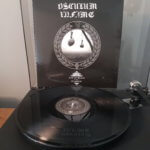 Belatedly granted the vinyl treatment in November last, Osculum Infame's long-overdue sophomore full-length, 'Axis Of Blood', is commanding and commendable for nigh on an hour, the ominous thunderous opening of 'ApokalupVI' a suitable portent of the unpredictable storm to come.
Having finally arrived almost two decades after infamous, cult debut 'Dor-Nu-Fauglith', 'Axis Of Blood' is a landmark – but strangely under-appreciated – release within the crowded French Black Metal scene. It's an ambitious hybrid, boasting a tasteful Death Metal undercurrent, the bold, traditional Black Metal accompanied by outbreaks of buzzsaw riffing with a murderous tone reminiscent of prime Dismember.
Osculum Infame's impressive mastery of all instruments (including clever, sparing use of keyboard and violin) combined with foul, wretched rasps of sheer disgust lends itself to a delightfully varied attack, perpetrated predominantly at mid pace, with stealth and no little sophistication.
There's a sense of powerful desolation and splendid isolation throughout, the Parisians clearly intent on treading their own path rather than following norms or conventions. This culminates in a diverse offering; mercurial, haunting and beguiling, patently memorable, but still punishing despite the prevailing, nay omnipresent panache and prowess.
A charming changeability is present (hinted at on the devil-may-care stopgap mini album 'Consuming The Metatron' which surfaced three years earlier), best encapsulated by the seven-minute 'My Angel', an organic, twisting, spiralling track that could go anywhere and essentially takes on a life of its own.

Behold the doomy, pagan splendour of 'White Void', the homage – whether deliberate or inadvertent – to the natural, folk-tinged sensibilities of Skyclad continuing unabated on 'Asphyxiated Light', a dynamic work-out that could get many necks snapping if we still did that kind of shit these days.
On Side D, the punishing, pummelling 'I in the Ocean of Worms' segues into the swirling, chaotic, bewitching majesty of imperious album closer 'Solemn Faith', a suitably bizarre and spaced-out ending to a trip that should stick in your mind for quite some time.
Enjoyable, enchanting, masterful.
Evilometer: 666/666