OSTOTS – HIL ARGI LP (Dead Section Records / Altare Productions)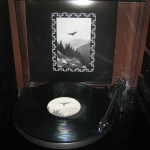 Hailing from the Basque Country, it's almost inevitable that Ostots is going to be shit hot. Second full-length 'Hil Argi' delivers six cuts of soaring, epic, clean and crisp underground Black Metal with fevered, waspish vocals (plus the obligatory intro and outro).
While the music is majestic, emotive and impassioned, for me it's those harsh, strangulated, raw shrieks that really serve to elevate this record above mundanity. But for them, this could have been a flaky enough affair because it's very melodic for the most part.
As it is, 'Hil Argi' stands proud as a pretty sublime, near-flawless experience.
Evilometer: 555/666