PAGAN HELLFIRE – AT THE RESTING DEPTHS ETERNAL LP (Tour De Garde)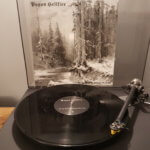 A couple of years have passed already since Pagan Hellfire's majestic sixth and most-recent full-length, 'At The Resting Depths Eternal', was offered forth from the snowy mountaintops of Nova Scotia. As there has been a disappointing dearth of high-quality new releases capturing my attention in recent days, I've been availing of the opportunity to listen back to some older records and this one really stands out.
Incarnatus, the lone wolf behind Pagan Hellfire, has been conjuring incredible soaring, emotional Black Metal for almost a quarter of a century now. The stellar debut album, 'A Voice From Centuries Away', caught my attention when it landed in 2000 and, since then, Pagan Hellfire has produced one stunning release after another.
The first track, 'Disappear Into Sullen Night', is bursting with pride, melancholy and honour, music that can make the hairs stand on the nape of your neck. Incarnatus has an uncanny knack for composing and executing songs that are laden with tremendous passion, energy and emotion, 'Rustling Wind Of Dimensions Unreachable' offering seven minutes of sheer grandeur and might before the sumptuous nine-minute title track transports us effortlessly to another time and place.
With winter closing in – and a season of discontent guaranteed due to the global oppression and tyranny that is being perpetuated in the name of a so-called pandemic – there has never been a better time for indulging in the cold, wondrous and triumphant atmosphere of Pagan Heritage, whose poetic lyrics and stark imagery are as captivating as the shrill, fevered music itself. The opening section of the penultimate ode, 'The Mountain Pass', features some of the most powerful lyrics I've encountered and the six-track, 41-minute album closes with an enchanting, sombre and aptly-named instrumental, 'Loss And Timeless Spirit'. Magnificent.
Evilometer: 666/666