THY FUNERAL – THE END OF LIFE (Subterranean Aftersounds / Total Därkness Propaganda)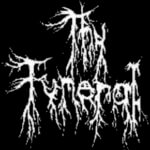 This long-since defunct Hungarian one-man entity is about as obscure and underground as they come. Recorded some 15 years ago, Thy Funeral's one and only full-length, 'The End Of Life', was initially unleashed on cassette in 2011 but has now been exhumed in both CD and digital formats in the year of plague, pestilence and global fascism.
Spread across six curses (including ambient dungeon-synth-y intro and outro), there are 48 minutes of dark, raw Carpathian desolation to be found on 'The End Of Life', a ragged and uncompromisingly abhorrent dose of crude and unsophisticated Black Metal conjured in the original spirit of the subgenre. The two central pieces, 'The Curse' and the title track itself, account for more than half of the recording, clocking in at eleven and 14 minutes respectively – the former a competent example of soaring underground filth, the latter easily the most confident and accomplished offering on the album.
There's little or no obvious sonic deviation from song to song and the album does sound like it was recorded in one take using the cheapest gear but this is all part and parcel of the appeal of raw Black Metal, which can be traced back to a certain time and place, where the innate spirit of the music outweighs any technical considerations.

All in all, 'The End Of Life' constitutes an interesting sample of ancient, eerie, dusty Black Metal, subtly melodic with a distant atmosphere – a lost gem unearthed, disinterred from its rotten grave for your listening pleasure.
Evilometer: 555/666