PERVERTED CEREMONY – SABBAT OF BEHEZAËL LP (Nuclear War Now!)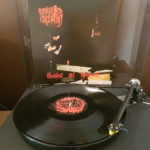 Paying glorious homage to the olden days of yore, Perverted Ceremony's debut LP presents 41 minutes of unapologetically raw and analogue Black Metal filth and decay from the bowels of the underground. The mood and disposition evident on 'Sabbat Of Behezaël' is pure, unholy, rotten.
Listening to this record is like taking a trip to the past, to times when Black Metal was fresh and invigorating, when enemies were freed from life rather than unfollowed, churches were aflame and long before the opportunistic neckbeard brigade jumped on board with their page-monitoring software, Instagram accounts, 24-hour internet presence and heads full of pure shit.
Evilometer: 666/666