SIGRBLOT – BLODSBAND (BLOOD RELIGION MANIFEST) 2LP (The Ajna Offensive / Invictus Productions)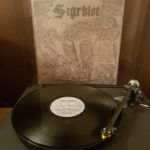 Sigrblot's sole full-length, 'Blodsband (Blood Religion Manifest)', is one of my all-time favourite releases. These two records are excellent from start to finish and somehow the fact that the band just disappeared into the obscurity from which it was borne adds to the appeal.
Alas, this gem is long-since sold out and with no reissue in sight probably ever. It's also banned by the great guardians of the moral compass, which possibly makes you a criminal for reading this. What a fucking world we live in.
Evilometer: 666/666