QRIXKUOR – THREE DEVILS DANCE MLP (Invictus Productions)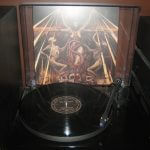 I've decided in the week running up to Caledonian Darkness II to generally only listen to bands who are playing at the festival. As I really appreciate some 13 of the 15 hordes taking part, this leaves me with a lot of scope!
Yesterday, I reached for Qrixkuor's rather astounding MLP, 'Three Devils Dance', first, electing to start at the beginning as they are opening proceedings at 4pm on the Friday evening.
I ended up spinning the record six or seven times before the cock rolled over and have already had it on rotation twice this morning. Not leaving me much time to shoot through the other records that constitute my cunning week-long plan but, fuck, this is terrific blackened Death Metal, dark and dangerous and murky but with hidden depths as well and more deft touches than a Barcelona match.
An easy one to file away because it's the only vinyl I own from a band beginning with the letter 'Q' and, at 38 minutes, the three-track offering is longer than many full-lengths. Wonderful stuff. Roll on Friday and an early start in the Scottish capital! Looking forward to seeing these hooded demons again.
Evilometer: 666/666