NORDWIND – WALK TO THE WOODS / NORDWIND LP (Obscure Abhorrence Productions)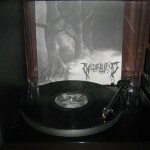 I wasn't at all familiar with Nordwind until Obscure Abhorrence decided to give them a 2013 airing by releasing this compilation LP on (remastered) vinyl format (limited to less than 300 units). As so often happens with something utterly unknown, curiosity got the better of me and I decided to give it a try. Not a bad course of action as, all in all, this is a reasonably good release but by no means an essential one.
On opposite sides of the record we get the 'Walk To The Woods' demo from 1996 and the self-titled 1998 demo. Thirteen songs – including two intros and one outro – comprise just shy of 40 minutes of very melodic, inoffensive and pleasant Black Metal, with soaring keys flitting between the background and foreground, a great sound and an enchanting vibe.
I can see exactly why the label saw fit to resurrect this material as it is way too good to be consigned to history and lost forever. In summing up, I would conclude that 'Walk To The Woods / Nordwind' is possibly worth tracking down. This is arguably a hidden gem but, at the same time, the music shows its age a little (not necessarily a bad thing but nevertheless leaving me with the impression that perhaps you had to be there first time around to feel / appreciate the full impact of Nordwind's mastery).
Evilometer: 444/666