RIDE FOR REVENGE – AGELESS POWERS ARISE LP (Bestial Burst / Northern Heritage)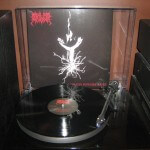 Ride For Revenge return rather quickly with a fifth full-length and it would be fair to suggest that 'Ageless Powers Arise' continues pretty much along similar lines to the previous four. These guys have a style all of their own and their sound is one of the most instantly recognisable in Black Metal – demented, twisted, warped, slow-to-mid-paced sonic majesty with lots of drum, lots of bass and lots of noise.
This is another suitably fucked-up, trippy ride and it's one that you should most certainly take. Each Ride For Revenge record is as mandatory as the last / next. For quality and consistency, RFR is hard to top. Record comes in a gatefold sleeve with lyrics (and quite a low sound, so you have to crank it way up).
Evilometer: 666/666