SALE FREUX / ZÉPÜLKR – LES FABLES IMMORALES ET FUITES INPROBABLES DE CRAPEFREUX EN MONTERAT LP (Mala Famae Records)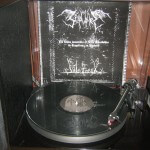 'Les Fables Immorales Et Fuites Improbables De Crapefreux En Morterat' is a fine example of the unexpected gems that the Black Metal underground can spew forth from time to time. Even though it's not necessarily brilliant, this album is nevertheless intriguing, captivating and truly unique. What's not to like?
Prior to purchase, I wasn't familiar with Zépülkr. But I do appreciate their three contributions to this split, even if their sound does at times veer a little too close to the oftentimes risible Peste Noire for my own personal taste. Generally, though, they deliver some enjoyable Black Metal en français. Three cool tunes; raw-ish with plenty of melody.
Of course, Sale Freux is not an unknown quantity to me as Dunkel's first two albums under this moniker, 'Subterraneus' and 'La Mélancolie Des Pennes', blew me away. (I haven't yet got around to checking out 2012 effort 'L'Exil' as it has only been released in CD format thus far (does that make me a snob?)) Anyway, two typically insane offerings from the Brittany act (now a two-piece – plus a murder of crows, by the sound of it!) elevate the record from a solid one to a very, very good one.
The label has done a superb job that merits mention. Nice cover, lay-out etc., while a four-page, 12×12 inlay boasts all the lyrics and some insight into the concept behind the record (I assume). Alas, it's in French, so I'm none the wiser! All in all, as well as being a serious mouthful, 'Les Fables Immorales Et Fuites Improbables De Crapefreux En Morterat' represents an entertaining glimpse into some rather strange goings-on in the French BM underground.
Evilometer: 555/666