SLIDHR – DELUGE LP (Debemur Morti Productions)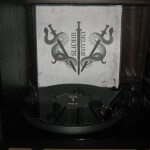 Don't think I've ever heard a debut album that sounds so accomplished. 'Deluge' is an absolute tour de force of Black Metal brilliance from start to finish. Although he's a veritable veteran of the dark arts, it took J. Deegan a long time to get around to recording a full-length; well, his patience and meticulous attention to detail have paid off in spades.
An astonishing release that is, in all honesty, nigh on perfect, 'Deluge' possesses everything I would look for in a stellar Black Metal album. It's harsh, dark and raw but there is also loads of devilish melody in the songs; the production and sound are top notch; the musicianship is superb; the vocals caustic and painful.
Words can't really do justice to how good this album is, so I will refrain from diluting its quality with needless superlatives and prose. Suffice to say that, eight years from its conception, Slidhr has come up trumps.
Evilometer: 666/666