SERPENTRANCE – AKRA TAPEINOSIS (Godz Ov War Productions)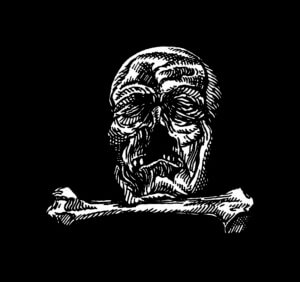 Of darkest decadence and sordid, subterranean decay, Russian abyss dwellers Serpentrance have conjured an otherworldly, oppressive and malodorous debut full-length with 'Akra Tapeinosis' – a sludge- and death-infused onslaught of blackened doom drenched in dense, dismal dementia and performed with insatiable, malicious intent. From the Gregorian chants that usher in 'Vomit & Myrrh' through to the devastating weight, harrowing severity and cruel sickness of the dissonant last blast, 'The Black Dawn of Sophia', the album represents a near-perfect execution of cavernous, infernal, sepulchral decadence.
Eerie, unsettling, unconventional, disturbing, ominous and graced with suitably stand-out lyrics to complement the barrage of hostility, 'Akra Tapeinosis' is the sonic embodiment of a soul-crushing existential crisis, rabid and frenzied its protestations, perfectly fusing the most primal and savage traits of Death Metal and Black Metal, with a heft of Doom injected into the manic maelstrom, to create sulphurous wrath that will drag you down, down to the depths of the voracious void.
The sense of dread and pure unadulterated evil inherent in every demonic growl, shriek of gurgle, poisonous riff or distorted chord is deeply disconcerting, with thunderous, hellish drumming supplementing the tumultuous descent to the vortex. There are many restrained moments scattered like venomous temptresses across the record, and proceedings often gravitate towards mid-to-slow pace but – irrespective of tempo – 'Akra Tapeinosis' invariably emits punishing and disorientating wickedness.
Approaching twelve nightmarish minutes, 'Underneath Babylon' is a masterful demonstration of orthodoxy delivered with a twist, weaving, undulating and carving a warped, perverse path of its own, suffocating yet spontaneous- and organic-sounding, culminating is an unexpected outbreak of delirious, rapturous enlightenment – the sense of relief that comes with resigned acceptance or merciful release. Reaffirming my faith in the underground's ability to indiscriminately unearth extraordinary art without warning, as if forged out of the very ether itself, 'Akra Tapeinosis' really is a mesmerising and very, very special release from an extraordinary force of nature.
Evilometer: 666/666