SINMARA – APHOTIC WOMB 2LP (Terratur Possessions)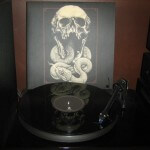 My first exposure to Sinmara came early in 2012 when they were operating under the Chao handle and delivered the excellent cassette EP, 'Spiritus Sankti'. In the meantime, the band name may have changed but the stunning nature of their music most certainly has not.
On 'Aphotic Womb', the rechristened Icelanders present eight cuts of choice Black Metal (53 minutes), like a mammoth hybrid of Svartidauði and Blut Aus Nord (perhaps?), spread evenly across two records and containing enough magic to keep you coming back for more and more and more.
The records are cased inside a sumptuous gatefold jacket and have for company a glorious 12×12, twelve-page booklet, plus the obligatory poster (hurrah!).
Overflowing with awesomeness.
Evilometer: 666/666