AZELISASSATH – IN TOTAL CONTEMPT OF ALL LIFE LP (Mordgrimm)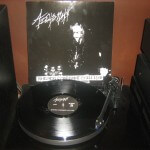 Not mad about the band name because I can't spell it … and never will be able to. But not being able to pronounce Azelisassath isn't a problem as I never discuss music with anybody face to face.  Read about it, write about it, think about it; never talk about it…
Anyhow, if you chanced upon my review of 'Evil Manifestations Against Mankind', then you'll already know that I hold these Swedes in very high regard.
'In Total Contempt Of All Life' is actually their debut album (both full-lengths were released during the current calendar year) and, although it isn't quite as magnificent as the follow-up, it nevertheless offers forth a pretty exceptional helping of supreme Black Metal art (six songs bookended by two instrumentals, running for 33 minutes in total).
The record comes with an insert (including lyrics) and poster, constituting a wonderful buy all around. If you're a fan of underground Black Metal that's grim, raw and true, Azelisassath is in many regards as good as it gets.
Evilometer: 666/666