SLIDHR – WHITE HART! (Debemur Morti Productions)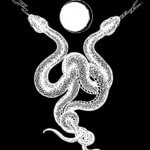 The trademark anger, indignation and misanthropic disillusionment that characterises J. Deegan's musical vision is more palpable and pronounced than ever before as 'White Hart!' manifests scathingly, seethingly against an unprecedented backdrop of global technocratic tyranny, authoritarian overreach and servitudinal surrender of the programmed masses. For an artist who has always had totalitarianism and historical deception fixed firmly in his sights, there has been no shortage of fuel for the fire over the past four years or so and the result is an uncompromising, explosive Black Metal album that roars resistance and rage.
There are no punches pulled or concessions made on the third Slidhr full-length. 'The Temple Armoury' goes straight for the jugular, a venomous tirade against the poisoners of everything – the liars, the dismantlers, the resetters and their lackeys – opening with an accusatory chorus of disapproval and erupting into a fearsome expulsion of ire, propelled forward by B. Einarsson's demolishing drums, this first diatribe charged with a purging energy that never relents for a second across the next 45 minutes.
The underground, adversarial spirit of true Black Metal is alive and well as 'Sacred Defiance' takes unapologetic aim at Black Metal warriors who serve the system and those who would readily, meekly participate in their own enslavement and that of others. As ever, the uncanny sense of musicality that Slidhr so effortlessly harnesses is copiously evident. The protestations are aggressive yet punchy and memorable. Composition and execution is of the highest order, showcasing the unique ability of a creator on top of his game. 'Trench Offering' is prime Slidhr and the ensuing 'What the Gauntlet Bestows' is an instant classic – a crazed, depraved offering that ebbs, flows, grows, squirms, teases and captivates.

The album title alludes to, nay honours the white stag / messenger that was mercilessly shot dead by police after it wandered onto the streets of Merseyside in September, 2021 – not just a heinous act but a symbolic killing marking the death of innocence and heralding a time of change. There has been change for Slidhr too as Garðar S. Jónsson is replaced on bass duties (and backing vocals) by S. Dietz for this recording but the transition is seamless and the chemistry between the three band members is superb throughout and particularly prominent or noticeable on 'Wall of the Reptile'.
But really this record is all about a man who was so consumed by anger that it almost wasn't completed. Mercifully, he channelled the hate into something truly remarkable, so that 'White Hart!' could defiantly mark the need for pushback in these demoralising days of societal collapse.
Evilometer: 666/666