BLUT AUS NORD – DISHARMONIUM – NAHAB LP (Debemur Morti Productions)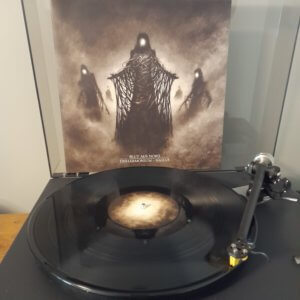 For most of its nigh on 30 years of existence, Blut aus Nord has followed its own path – one meticulously carved out by the unique, innovative mind of Vindsval himself and which has allowed this French Black Metal enigma to forge an identity truly all of its own. It was from the ground-breaking fourth full-length, 'The Work Which Transforms God', onwards that BAN became an unstoppable law unto itself and what a refreshing, visionary journey it's been since (and before – every release in this band's expansive discography is excellent).
Landmark game-changer 'TWWTG' turned 20 this year and it's uncanny that Blut Aus Nord is still going strong all these years later. Perhaps even stronger, as deliriously twisted 15th full-length, 'Disharmonium – Nahab' is in many respects a perfect culmination and distillation of what this omni-tendrilled, multi-tentacled, intangible force is all about. The law of diminishing returns had somewhat inevitably kicked in a handful of years back but this record and its invigorating predecessor from last year, 'Disharmonium – Undreamable Abysses', have breathed even more life and energy into the mighty, mystical beast, propelling it to an unlikely and unexpected new apogee.
Of course, Blut aus Nord's warped take on Black Metal is impossible to describe. The deconstructed, hallucinogenic soundscapes that bend through the speakers are a fucked-up version of a fucked-up version – the sonic embodiment of an otherworldly cosmic, nightmarish trip to the verge of madness. A disjointed, unhinged, ethereal experience that is wholly anomalous yet innately organic at the same time.

It sounds different on every listen. Which parts are really there and what sections is Vindsval's masterful alchemy planting in the ear and mind, coaxing it to create? The sensory overdrive is real and, if you immerse yourself in the bizarre Lovecraftian / Lynchian realm of Blut Aus Nord, the result is immensely rewarding. 'Disharmonium – Nahab' is an ominous, surreal, haunting cinematic record from the mind of a peerless creator and the gatefold vinyl edition looks and sounds superb, with the accompanying artwork adding greatly to an already elevated overall experience.
Evilometer:  666/666