SPIRE – ENTROPY LP (Iron Bonehead Productions)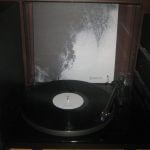 Spire's debut album features six intriguing offerings of doomy, ambient Black Metal ranging in length from three to 14 minutes. Mostly slow-to-mid paced, it took a little time to work its charm on me. Eventually, however, I deduced that 'Entropy' is a terrific record that's melodic yet genuinely foreboding and manages to collate its different influences into a very commendable (w)hole.
Give it a listen or three on Bandcamp and see what you think. Some nice guitar tones in there and the vinyl edition looks fantastic.
Evilometer: 666/666