BLOOD TYRANT – ARISTOCRACY OF TWILIGHT LP (Iron Bonehead Productions)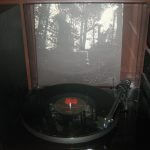 I'm not sure how twilight can qualify as being aristocratic but anyhow Blood Tyrant's debut full-length is worthy of close investigation. Delivered are 30 minutes of venomous, raw razorblade Black Metal, blistering and ravenous enough to leave you breathless but still imbued with a delightful authentic charm that is no doubt indebted in part to the accompanying artwork and packaging plus the beguiling intro and outro as well as the main body of mesmerising music itself.
'Twilight Of Aristocracy' is a really good record and there's no need to say any more.
Evilometer: 666/666