SWARÞ – OMINES PESTILENTIAE 2LP (Iron Bonehead Productions)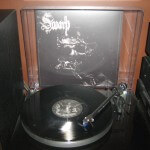 Swarþ (or Swarth) is shrouded in mystery as the band's members are unknown; even their nationalities are kept under wraps. 'Omines Pestilentiae' gathers the material from their previous releases – the 'Swarþ' and 'Þy Tayl is Deeþ Þurgh Þyn Envenymynge' demos and 'Mors Rex Salvator Hominum' EP – and lovingly carves them onto two 140g records.
These are contained within a sumptuous gatefold jacket with a nice A5 booklet included and a limitation of 500 copies. The overall package looks amazing and, predictably (considering the stellar label involved), doesn't disappoint sound-wise either,
For almost an hour, we are treated to an incredibly heady offering of genuinely underground Black / Death Metal insanity, which reminds me of The Ruins Of Beverast with the doom quotient (almost) completely removed and the filth factor ratcheted up to the max. I don't like all the vocals but, generally, this is fantastic music that needs to be heard by all advocates of darkness. Don't miss out.
Evilometer: 666/666