TLILTIC TLAPOYAUAK – BLACK TWILIGHT CIRCLE COMPILATION 3LP (The Ajna Offensive)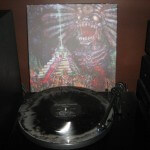 Simply put, this is one of the most awesome new releases in my collection. It has taken me a long, long time to get my head around this work and, if truth be told, I haven't fully digested 'Tlilitic Tlapoyauak'  yet. It's a monumental and incredibly ambitious undertaking by any standards – let alone for underground Black Metal – but represents a resounding success for all involved.
A total of 16 bands, each affiliated to the notorious Crepúsculo Negro label, present one exclusive track apiece to this triple album, which runs for nigh on two hours. I've already covered many of these acts in previous reviews, while a lot of them are new to me. Apart from the atrocious Axeman offering that closes proceedings, I enjoyed them all (even The Haunting Presence, whose album sucks). EDIT: actually it doesn't suck … it doesn't even exist – I was mixing them up with the ghastly Funereal Presence. Shame on me!
Conceptually, the whole thing flows together magnificently and, in many respects, it resembles one band with many faces, such is the uniformity of ideology and expression. (One recording studio was used.) Each track is unique and, even if they're not all outstanding, they come together to form a wonderful whole. My own personal favourites include Kampilan ('Battle of Mactan'), Kallathon ('Universe Of Constant Ages And In The Mist Of Eternity') and Arizmenda ('Rites Of Deconsecration').
All the stops have been pulled out for this edition – three marble vinyls, a 20-page colour booklet with lyrics and band images, silver inner sleeves … all adorned within a devilish big box. Not cheap to purchase; nor should it be… 'Tlilitic Tlapoyauak' is the epitome of underground Black Metal and is challenging 'Crushing The Holy Trinity' hard as the most incredible various-artists Black Metal vinyl release ever.
Evilometer: 666/666