THE RUINS OF BEVERAST – TAKITUM TOOTEM! EP (Ván Records)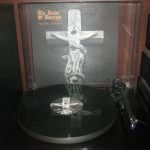 At shy of 21 minutes, 'Takitum Tootem!' lasts about as long as a good shit but it's still a very nice release. It's ultra-accessible (I can imagine my uncles who are all sixty-something farmers with big red cheeks dancing along to it at a wedding) and it's certainly another worrying departure from TROB's blackened roots – especially with the new full-length imminent – but by fuck it's splendid.
The cover of 'Set The Controls For The Heart Of The Sun' is neither here nor there but better to have it on the flipside, rather than an etching or something, after splashing out the price of an album for an EP. I'd like to have got more bang for my buck and also to have been offered more than nine minutes of original material but this one still gets a big thumbs up (even if it's clearly not Black Metal).
Evilometer: 666/666