ANTAEUS – CONDEMNATION LP (Norma Evangelium Diaboli)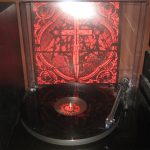 A full decade on from 'Blood Libels', I had subconsciously given up on ever hearing another Antaeus full-length. Thus, it was a nice surprise to learn last year that a fourth album was imminent from one of France's truly great Black Metal exports. And 'Condemnation' does not disappoint.
The aggression and violence and intensity of the attack may become somewhat monotonous at times but this is blasphemous, hateful Black Metal with fuck-all frills so a mostly-one-dimensional, pummeling blitzkrieg is only to be expected. The stale production works perfectly and the record proves that Antaeus are masters of their black craft.
Spellbinding, punishing stuff from two decorated veterans of the dark arts (aided by a rather excellent Portuguese session drummer of Lvcifyre, Enthroned and Nightbringer infamy, whose militaristic precision embellishes the attack magnificently), the album contains an occasional moment of restraint, offering scant mercy in the face of a skull-imploding barrage of buzzing Satanism.
Deliberately understated and un-grandiose, 'Condemnation' came across as somewhat subdued and uninspired upon initial listens, but I persevered with it and, fuck me sideways, was I richly rewarded or was I richly rewarded…
Simply immense.
Evilometer: 666/666