TOMB MOLD – PRIMORDIAL MALIGNITY LP (Blood Harvest)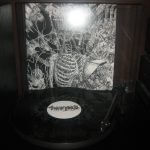 Canadian duo Tomb Mold have crafted a seriously crushing and impressive debut full-length in 'Primordial Malignity'. While the album is undeniably grisly, grim and grotesque, it possesses an organic, almost-catchy dimension as well as overt aggression, rendering it somewhat enigmatic and anomalous by Death Metal standards.
The songs are superbly written and executed (pummeling, precise, potent) and they are afforded a magical production that allows everything to shine through (drums, vocals, guitars all prominent and pleasing). So this is strangulating rather than murky.
To an extent, it's really just exeptional Canadian Death Metal with a distinctly Finnish vibe (yet jangly and chuggy – for want of better words (or real words, even) like compatriots Gorguts and Cryptopsy), managing to sound fresh and clean and pristine.
Sharp, glistening blades bring little or nothing new to the sacrificial table but they sure are effective for gutting people with.
Evilometer: 666/666