TOMB MOLD – THE BOTTOMLESS PERDITION / THE MOULTING LP (Blood Harvest)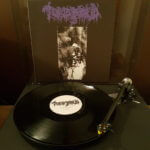 Canadian Death Metal upstarts Tomb Mold have been busy. Hot on the hacked-off heels of stellar debut full-length, 'Primordial Malignity', which surfaced last year, this record collates the band's two EPs from 2016 – namely 'The Bottomless Perdition' and 'The Moulting', of course – onto one prime slab of black wax.
Even though it's a fairly short killing spree at just past the half-hour mark, this is still a relevant release, worthy of attention. Tomb Mold's underground take on Death Metal is thoroughly enjoyable and they are cranking out material like there's no tomorrow, aptly, with a second full-length, 'Manor of Infinite Forms', already upon us, too.
Evilometer: 666/666