TURIA – DOR LP (Altare Productions)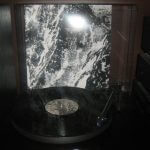 The accompanying brouhaha was conspicuous by its absence when Turia unleashed their debut full-length last year but that doesn't really mean anything. One of the truly mystifying anomalies of the Black Metal underground is how some virgin albums receive inexplicable amounts of hype while other equally-worthy, fledgling releases seem by comparison to slip beneath the radar and disappear almost into oblivion.
As it happens, this Dutch three-piece deliver some truly absorbing minimalist, repetitive, ambient Black Metal in the vein of a Fell Voices, Ash Borer or Vanum and 'Dor' is a top-notch release, with four lengthy tracks that flow into one another seamlessly (38 minutes in all) and fly by due to their innate catchiness and undeniably high quality.
Evilometer: 666/666