ULCERATE – STARE INTO DEATH AND BE STILL (Debemur Morti Productions)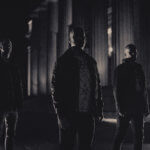 Death is everywhere these days. It's unavoidable. Wait a minute … has this not always been the case? While mounting death tolls dominate news reports all around the globe, bodies piling up like the zombie apocalypse of all moshpits, our attention is firmly fixed on these frightening, fear-mongering figures.
But do we need numbers and stats to understand death, to truly recognise it in all its stark inevitability? Has it not always been here? Has there ever been a good time to die? Why are we suddenly counting? Since man first walked on earth, we've been confronted by death. Resistance is futile; it will get you in the end.
There's certainly an eerie poignancy surrounding the correlation between the release of Ulcerate's intriguingly-titled sixth full-length, 'Stare Into Death And Be Still' – the unorthodox Death Metal trio's first offering under the auspicious Debemur Morti banner – and current global events. Just as the New Zealanders implore us to look it in the face, death defiantly becomes more conspicuous than in any other period of our lifetimes. Well, if death has upped the ante, so too have Ulcerate.
Continuing the trend of each Ulcerate album being slightly longer than the one that preceded it, 'Stare Into Death And Be Still' delivers eight epic, oppressive and decidedly expressive tracks across more than 58 minutes, seamlessly juxtaposing monstrously aggressive Death Metal fury with the perfectly-balanced power / restraint trade-off of Neurosis, dare I say it even the ethereal sensibilities of Cult Of Luna.
Despite inescapable (and most welcome, of course) similarities to stellar Death Metal luminaries Immolation and Gorguts, Ulcerate have always been a law unto themselves. Arguably one of the most unique and trailblazing extreme music entities of the present millennium, they have painstakingly forged their own sound over the past 17 years and counting, their graft and tireless energy matched by inspired songwriting and flawless musical prowess. On this latest album, the inimitable Aucklanders have emphatically, irrevocably transcended the wholly-patronising 'technical death metal' stereotype, contemptuously tearing up any ill-advised propensity one might have to pigeonhole.
Somewhat cryptically, Ulcerate are the culmination of many things at once yet are none of these exactly. The dark, atmospheric art they conjure rises organically from the depths of the void, harrowing and suffocating, the huge, undulating waves of sound intricately woven into more melodic, retrospective sections to form the richest of tapestries.
Uncannily, regardless of the tones or textures on display at any given moment,  'Stare Into Death And Be Still' is invariably heavy; from the tumultuous, time-shifting terror of Ulcerate's signature controlled chaos through the more reflective, introspective moments, an all-consuming heaviness resides. When the ridiculously-dexterous, otherworldly drumming, cutting, celestial riffs and devastating, demonic roars give way, the respite is negligible as a different shade of black is conjured, the atmosphere remaining utterly charged with darkness, raw, negative emotion and passion spilling through the stale air, an acknowledgement of inevitable decay and demise, the destruction and end of all things.
And the world knew death; and the world was still.
Evilometer: 666/666