CULT OF ERINYES – ÆSTIVATION LP (Amor Fati Productions)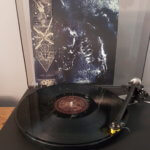 Through a veritable fusillade of rage and venom, Cult Of Erinyes smash through the speakers with obliterating intent on their fourth full-length, 'Æstivation'. This is actually my first exposure to the Brussels brigade and it's a challenging, unsettling but thoroughly rewarding experience, the Black Metal equivalent of a claw hammer to the temple.
The music is utterly unrelenting, a vicious and visceral bombardment of crushing, feral savagery; pounding, hammering, smashing, pummelling everything in sight into submission with its unconditional, uncompromising, indiscriminate hostility; annihilating, cleansing, purging, purifying.
Mercifully, it's not a complete massacre of all that dwells betwixt the tympanic membrane and cerebellum as the vicious ferocity is tempered by moments of contemplative calm, much-needed breathers amid the barrage of devastating blows; an opportunity perhaps for the assailant to step back from the malformation and admire the life-changing damage done before administering another tattoo of murderous wallops.
The rather meagre hint of variety does render the bone-breaking offensive somewhat more bearable but, for the most part, 'Æstivation' is an unforgiving audial onslaught that commands attention.
Evilometer: 555/666