VAAL – GEESTEN VAN DE VERLORENEN LP (New Era Productions)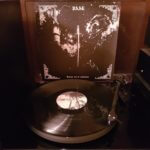 Here's half an hour of premier, primitive, hateful Black Metal from the Netherlands. 'Geesten Van De Verlorenen' is a shrill, ancient, contemptuous, raw-yet-atmospheric protestation against the plague of desert religions, conceived and executed by one disgusted, eponymous soul (albeit with a little help from session bass player Morden).
Stellar Black Metal, eschewing technicality (which is over-rated) and lofty production values (ditto) in favour of spirit, panache and the true feel of the olden days. Even an occasional sound wobble does nothing to reduce the whole. It's all about the mood, the tone, the feeling, the rare alchemy of sounding familiar and fresh at the same time.
Evilometer: 666/666