POSSESSION – EXORKIZEIN LP (Iron Bonehead Productions)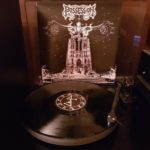 Remarkably, it's almost a year already since Possession dropped their mighty debut full-length. I never got around to writing nearly as many reviews last year as I'd ideally have liked and 'Exorkizein' is one of the many worthy records that slipped through the net while I was on the doss.
Witnessing this band twice in a live environment has given me a good appreciation of what Possession are all about. They're powerful in that setting and equally great on record. For a debut album, 'Exorkizein' is quite remarkable, but we almost take such achievements for granted in the wondrous Black / Death Metal underground.
There's been a seamless change of vocalist since the '1585-1646' MLP and it's noticeable that the full-length is only eleven minutes than longer said mini-effort but there's more than enough here to get your (d)evil-worshipping, horror-loving fangs into. The songs are like little stories of nastiness and depravity; the hammering house of Black Metal horrors.
Evilometer: 666/666