VADER – SOLITUDE IN MADNESS (Nuclear Blast)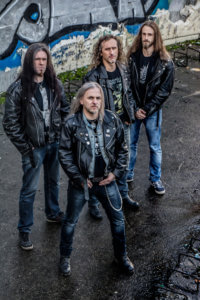 If anything, the world has become an even more unbearable place since Vader exploded onto the scene with their landmark debut album, 'The Ultimate Incantation', all of 28 years ago. The aptly-titled 'Solitude In Madness' is the Polish pioneers' 16th full-length release and it further cements this legendary band's status as one of extreme music's most powerful and consistent forces.
As solid as anything in the Vader discography, apart from arguably the aforementioned, iconic debut itself and 'Litany', which detonated into our faces like a misplaced hand grenade a score of years ago, 'Solitude In Madness' delivers eleven prime slabs of thrashing Death Metal mastery in less than half an hour. It's a short album but there's a lot of brilliance packed into those 29-and-a-half minutes.
Sole remaining founder member Piotr Paweł Wiwczarek's growls have never sounded better and his riffing is as fresh and soaring as it was three decades hitherto. The drumming on this album is positively incendiary, as one would expect from Vader, while the brief solos mercifully manage not to outstay their welcome. Years of experience are on display in the form of exceptional song-writing and execution and I can't imagine anybody who has ever enjoyed listening to a Vader record having a problem with 'Solitude In Madness'.
No curveballs to be found here; just a heartening dose of consistency in a world gone made. Listening to this, I almost feel like I'm a teenager again, holed up alone in my bedroom, with battered tapes of Deicide, Kreator, Slayer, Iron Maiden and of course Vader for company. Only one of those bands is still going strong today and it's quite an achievement by any standards!
Evilometer: 555/666