VARGNATT – NUR EIN TRAUM LP (Lycaner Records)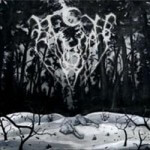 'Nur Ein Traum' is one of two demos leaked into the underground by unknown German horde Vargnatt in 2007 (the other being 'Wintergrab'). These two demonstrations are the sum total of the band's entire discography and – thankfully – 'Nur Ein Traum' was given a vinyl release by Lycaner Records in 2010. The result is what's spinning on my deck right now and the first observation I have to make is that this does not sound like a mere demo.
Good enough to stand toe to toe with any album proper (the basic production might present problems in other subgenres but is arguably a plus factor in the realm of Black Metal), and reasonably lengthy too at almost 38 minutes, this is a record worth its place in your collection. It's not amazing, but it's damn good. A solid slab of ambient, classic Burzum (with early Ulver another obvious touchstone) inspired atmospheric blackness that reeks of class, even if it's been done a thousand times before.
For the purpose of the vinyl release, the music has been remastered and presented in a gatefold jacket with tasty artwork that conjures forth thoughts of frozen forests under a moonlit sky. With a dead wolf. Oh, and it's blue vinyl. There's a sense of desolation in the imagery and this complements the oftimes beautiful music perfectly. All in all, 'NET' is a decent release and one that should appeal to all vinyl collectors with a penchant for mysterious BM.
Evilometer: 444/666