VERMISST – ZMIERZCH STALOWEJ CIEMNOŚCI LP (Signal Rex)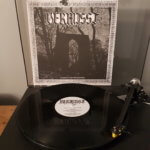 Bolstered by the inclusion of three outstanding bonus tracks on Side B, which bring proceedings boldly into full-length territory at almost 40 minutes in duration, the vinyl incarnation of Vermisst's stellar EP, 'Zmierzch Stalowej Ciemności', is without doubt the ultimate one, an ugly consignment of ritualistic, occult raw and ragged Black Metal (with two distinct facades) from Poznań in Poland – a jurisdiction that football followers will readily associate with blatant non-conformity and going against the grain.
Grecque-like, Vermisst shun convention to produce Black Metal as they themselves see fit, trance-like and atmospheric but also distinctly on the rawer side. So different are the opposing sides to this EP-cum-LP that it almost sounds like a split featuring two similar hordes (true, to an extent, as the recording line-up for each side was a little different). The ominous, tone-setting instrumental opener, 'Mørkelokk' sets a suitably unsettling mood and the first side, which is effectively the entire original EP, concludes with another eerie, ambient piece titled 'Det Skjulte'. In between these offerings are three soaring emanations from the underground, embellished by the very palpable use of keyboard to help conjure a melodious and poignant atmosphere laden with pride and passion.
Eclipsing the seven-minute mark, 'W Pozagrobowej Przestrzeni' is the longest track on the record and arguably the stand-out one on Side A, reminiscent of cosmic Black Metal, albeit still within a rather raw framework. Indeed, the cosmic, otherworldly atmosphere is also apparent on the aforementioned 'Det Skjulte' before we flip the wax over and turn our attention to the additional music, which was recorded during a later session, last December, now as a two-piece comprising Vorghast and Belath without any input from Norway-based Kvalvaag (i.e. no keyboards).
Whereas often bonus tracks added on at the end of a release are thrown in as an afterthought or blatant filler at best, this is not the case with 'Zmierzch Stalowej Ciemności' as I believe the 15 minutes making up Side B are more than worthy of their inclusion … at least as good as if not better than what went before. The shrieks become more demented, crazed and hysterical and I'm reminded now of Iberian bands like Ostots and Sentimen Beltza as Vermisst display another side to their psyche with some wonderful natural, organic, misanthropic Black Metal for cold nights beneath the harsh glare of a frosty moon.
Evilometer: 666/666