VÖEDTÆMHTËHACTÅTT / NEKROKRIST SS – I AM THE CHAOS, THE ABYSS AND THE GLOOM LP (Darker Than Black Records)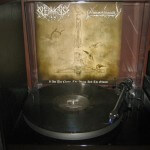 On the very same day as this, Vöedtæmhtëhactått's collaboration with Nekrokrist SS also surfaced on vinyl. We get pretty much more of the same from the enigmatic Satanic Ukrainian here, although I do slightly prefer the four choice shrill cuts presented on 'I Am The Chaos, The Abyss And The Gloom' to those on 'Without Veils Of Righteousness'.
On the flipside, ever-dependable rabble-rousing Finnish horde Nekrokrist SS – which seemingly specialises in two-way split releases, having previously conspired with Nattfog, Faagrim, and Förgjord (when will the latter two of these appear on vinyl?) – returns with three trademark offerings of majestic underground Black Metal to complete an essential purchase, which is limited to just 333 copies and is receiving less media attention than the death of an insect.
Evilometer: 666/666