WHITE MEDAL – ELMET LP (Altare Productions)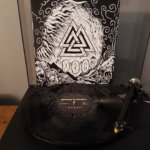 The illegitimate offspring of prolific Yorkshire Heathen Black Metal progenitor George Proctor, White Medal has been cultivating some truly crude and captivating art since the self-titled EP arrived like a primitive fist to the face in 2008. The latest full-length, 'Elmet', is as atavistic and unforgiving as we've come to expect, another healthy consignment of raw, harsh and unswervingly-unique Black Metal, perfectly crafted and with a strong sense of cruel melody.
'Goasts Traiken Elmet' opens up ominously, a harbinger of the scornful horror and dread that lies ahead, followed by the immense, sick and twisted 'Bastard Sons of North Luddite Wolf' – one of two tracks on the fourth White Metal album to transcend the seven-minute mark. The second of these, the manic 'Hallam Nivver', which provides a stunning denouement to 'Elmet', is one of the best songs recorded to date by Yorkshire's finest – stomping, smashing, snarling and wonderfully infectious.
Riotous and punk-infused, the closing track imbues the fucked-if-I-care spirit that singles White Medal out from the pack as something special. There's a myriad of influences thrown in and the song ebbs and flows almost spontaneously, a mad and improvised plunge into madness, the unsettling atmosphere instilled staying with you long after you've stopped listening – a powerful and evocative ending to the record.
In between, there's no respite as White Medal moves purposefully from one thick, absorbing and decidedly contemptuous eruption to the next, each one masterful, a perfect production allowing space and clarity for every unhinged howl, deviant riff and deranged drum strike, with some nice ambient touches also incorporated into what is ultimately a superb, unsophisticated but memorable underground Black Metal release.
Evilometer: 666/666