WOLVSERPENT – PERIGAEA ANTAHKARANA 2LP (Relapse Records)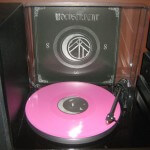 I've discovered that the so-called biggest shop in the world stocks vinyl releases from Relapse. This is valuable information as postage from Amazon is free and – in addition to lots of rubbish – Relapse does actually still unleash some excellent music, 'Perigaea Antahkarana', the second full-length from Wolvserpent being a case in point.
Pity the records that arrived to my house are fucking pink, though. I can't think of anybody I know who would prefer pink records to black ones and it really annoys me to own pink vinyl, but there you go…
Wolvserpent first registered on my radar when they supported Wolves In The Throne Room (and stole the show) in Dublin a few years back. Their live ceremony comprised two lengthy rituals that seemed to go on forever (about an hour) and was truly mesmerising. While not quite as potent a force on record as in the flesh, they are nonetheless a formidable entity.
There's about 20 minutes of superb cathartic, transcendental death / doom / drone on each side of these records (actual music on Side D makes for a refreshing change…). Cleansing and ritualistic like Neurosis, but 'Perigaea Antahkarana' sounds nothing like Neurosis; Wolvserpent have their own unique style (all about dynamic) which I really like.
Evilometer: 555/666