GRAVE UPHEAVAL – (UNTITLED) 2LP (Nuclear War Now!)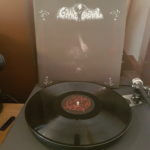 More cavernous, atonal, speaker-unfriendly rumbling emanations from the bottomless pit of damnation are the order of the day on Grave Upheaval's second untitled full-length album.
Including the bonus track, there are 74 minutes of hellish, one-dimensional obscurity to be found on the monstrous double-vinyl edition. No lyrics, no song titles, no album title, no frills but lots of thrills.
Evilometer: 666/666