A.M.S.G. – THE FORBIDDEN TRANSFORMATION MLP (Profound Lore Records)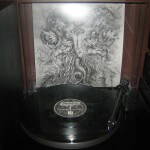 'The Forbidden Transformation' contains 29 minutes of music on two sides of a 12" record; the title track on Side A plus 'Luciferion Lycanthropic Lust' and 'The Gleaming Tower' on the flip side. It still costs the price of a full-length but a CD edition of the recording is included to soften the blow. A nice touch.
There's no sign of the blasted saxophone that blighted 'Anti-Cosmic Tyranny', mercifully, and for that reason I find this release more enjoyable. A minor triumph for quality over quantity, if you like. A.M.S.G. really can craft some genuinely evil and detached vibes and this record should appeal to both the converted and potential new devotees alike.
A great way to kill half an hour.
Evilometer: 555/666