DØDSENGEL / HETROERTZEN – CAPAX INFINITI LP (Lamech Records / Barghest)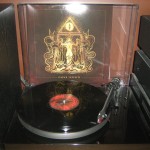 It's not just the music on this split LP that's phenomenal. Aesthetically, the vinyl edition of 'Capax Infinity' is truly spectacular. The sublime front cover artwork looks amazing in the 12"x12" dimensions that grace all full-length records, while the lyrics of all four songs are contained alongside some sumptuous and intriguing drawings on the delightful inner sleeve.
See all those superlatives (or grown-up adjectives) I've just used? Phenomenal, spectacular, sublime, amazing, sumptuous and delightful? Those also apply to the musical contributions of Dødsengel and Hetroertzen – the finest Norwegian and Chilean (s)wines – to this essential release.
For undeniably majestic, magnificent, monumental obscure and eclectic underground Black Metal, look no further.
Acquire or expire.
Evilometer: 666/666