TEMPLE NIGHTSIDE – CONDEMNATION LP (Nuclear Winter Records / Dark Descent Records)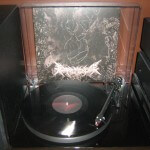 Considering that Temple Nightside mastermind IV is the self-same entity behind such stellar BlackMetalReviews-endorsed forces as Ill Omen and Perdition Oracle, it was no surprise to me whatsoever to discover immediately upon receipt that 'Condemnation' is a fucking killer debut full-length of twisted, distorted harrowing Antipodean Black / Death Metal laced with more than a hint of dark dread / ambience.
With a little help from their colleagues in Vassafor and Grave Upheaval, IV and his Temple Nightside acolyte Basilysk (drums) have crafted eight cavernous, underground offerings that straddle the lesser-travelled ground between lo-fi black death, occult doom and infernal hell itself. The truly ritualistic music is driven by an undeniably evil energy and this is one of those records that holds up brilliantly to repeated listens. In fact, it seems to magically improve each time I give it a spin.
To seal the deal, the final is enclosed within a gatefold sleeve with an inlay sheet, all graced with some nice, minimal black and red artwork. My only complaint (and there's invariably one, I know…) is that there's no hint given as to which side of the record is which (unless I haven't spotted the clues). No need for riddles; a simple 'A' printed on Side A would suffice.
Regardless, 'Condemnation' is a monstrous conjuration that should appeal to fans of any of the above-mentioned bands or of quality Black Metal in general. Not quite like anything else you will have heard, yet imbued with a comforting familiarity, the album is reassuringly cold and nihilistic, almost like a drugged, slowed-down version of Portal meets Blut Aus Nord. Barbaric; transcendental; tribal; different. Treat yourself to this mystical vision of spectral squalor.
Evilometer: 666/666