ACHERONTAS – PSYCHIC DEATH – THE SHATTERING OF PERCEPTIONS (Agonia Records)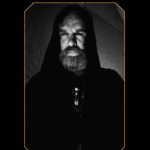 The ceremonial bell (death knell?) chimes ominously to herald the portentous arrival of 'Psychic Death – The Shattering Of Perceptions', the latest full-length compendium of authentic, occult, ritualistic Black Metal mysticism from the long-established magical coven of Acherontas. Comprising eight substantial, lingering spells dispersed across 54 enchanted minutes, this monumental release showcases the revered Hellenic sorcerers at the height of their Luciferian might; resplendent, still and enlightened, nay enraptured, beneath the glow of the morning star.
Thirteen years have dissolved into the ether since V.P. conjured his first full-length under the Acherontas moniker – the trailblazing, standard-setting 'Tat Tvam Asi (Universal Omniscience)' – and the relentless passage of time has clearly done nothing to dampen the creative spark igniting his singular vision as hereon, whilst reassuringly familiar, the songs also sound fresh, dynamic and decidedly inspirational. Thus, in many respects, 'Psychic Death – The Shattering Of Perceptions' represents a timely snapshot of a band at the peak of its considerable powers.
Very few current artists can channel the splendour and grandeur of ancient Black Metal as effortlessly and organically as Acherontas, whose ability to merge naked aggression with lush, retro melodicism is unrivalled, the sheer power of the music omnipresent during both the calmer and more frantic passages, which are merged together seamlessly to establish a genuinely diverse yet coherent tapestry of dark, twinkling, timeless, transcendental art.
Take for example, 'The Offering of Hemlock' – the shortest offering on 'Psychic Death – The Shattering Of Perceptions' – which sets off serenely, erupts into an outburst of glorious, venomous rage and signs off amid a chorus of soothing, bedevilled chants … brave, confident song-writing with more variety hidden inside five immense minutes than many others squeeze into an entire album. Truly exceptional.
Accompanying the stellar music(ianship) is the by-now trademark smorgasbord of excellent, emotive vocals – sung, screeched, spoken, chanted, shouted – conveying thoughtful, intelligent lyrics (in both English and Greek) which underline the curiously reflective, meditative, pensive and introspective nature of one of Black Metal's most unique, enigmatic and enduring entities.
Evilometer: 666/666