OREMUS – POPIOŁY LP (Arachnophobia Records)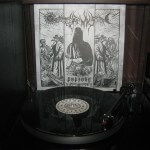 First thing I want to do is acknowledge the exceptional work the label has done with presentation on 'Popioły'. The record looks fantastic and comes in a gatefold cover with a large eight-page booklet included (featuring lyrics in both Polish and English). It's one of those records that, when you own a copy, you really, really want it to be excellent.
Unfortunately, I think the music is only slightly north of average. Good but not great would be my honest assessment. I must stress that this is by no means bad but the music isn't on a par with the exceptional presentation. Four lengthy songs provide a total of 35 minutes of enjoyable but far-from-essential Black Metal.
Given that this is a side project of two members of Blaze Of Perdition (who have been going through a nightmare time since that horrific accident in November and have a lot more than music to be worried about these days), it is very unlikely that there will be a follow-up. So, in a nutshell, a historic and beautifully-presented record that's fine but not fantastic.
Evilometer: 444/666