ADZALAAN – INTO VERMILION MIRRORS LP (Vrasubatlat)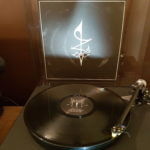 Releases from the Vrasubatlat stable are invariably excellent and Adzalaan's debut full-length, 'Into Vermilion Mirrors', is yet another worthy addition to this fresh, unique and extremely impressive canon.
The record reminds me a lot of the outstanding 'Rotten Limbs In Dreams Of Blood' and that's hardly a surprise considering that Ash Borer member Rory Flay is essentially the mastermind behind both acts (as well as many others).
Serpentine, buzzing, swirling, enchanting Black Metal with some Death Metal brawn is the order of the day, with enraged vocals and majestic interludes. Ferocious, fantastic and mightily accomplished. Shame there's no lyrics included but I always seem to find at least one thing to moan about, even where perfection beckons.
Evilometer: 666/666