UŠKUMGALLU – ROTTEN LIMBS IN DREAMS OF BLOOD LP (Vrasubatlat)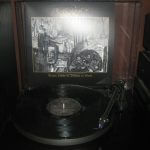 Uškumgallu's debut full-length, 'Rotten Limbs In Dreams Of Blood', is a twisted, depraved slab of sinister, primitive Black / Death Metal for which all the usual negative-positive superlatives apply. From start to finish, it's an unsettling, unnerving experience but one you will want to live through over and over again. Shedding your skin.
Nightmarish, psychotic and claustrophobic but with just enough subtle nuances, interludes and noise to keep things bearable, this album is a real breath of fresh air and a true lesson to others in how to deliver music that's genuinely obscure and crushing yet nourishing. It will shatter your soul and replenish your spirit.
Just awesome. In fact, this is probably one of the best records in my collection.
Evilometer: 666/666