VILKACIS / TURIA – VILKACIS / TURIA LP (Altare Productions)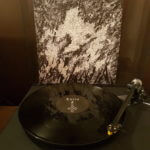 Both Turia full-lengths are fantastic, so it was exciting to learn that they had recorded a split with Vilkacis, the one-man entity fronted by Michael Rekevics of Fell Voices, Vanum, Vorde and Yellow Eyes.
The record is half an hour long and features two songs from each act – a triumph for quality over quantity. The in-form Dutch trio are up second with trademark skeletal, ethereal, raw, lo-fi, anaemic, howling, minimalistic Black Metal, setting the tone for a very enjoyable 30 minutes of underground art.
On Side A, which is slightly longer, the Vilkacis offerings are also great – harsh yet melodic, distant and sombre yet engaging and uplifting, swirling, swashbuckling almost. Rumbling and tinny. Soaring and triumphant. Lyrics are included on the insert and this is a splendid release all around, showcasing two murky subterranean denizens who complement one another superbly.
Evilometer: 666/666