AKERBELTZ – MERCILESS (BlackSeed Productions)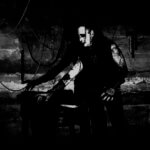 Longstanding Catalonian one-man act Akerbeltz hit a career high with sixth full-length, 'Satànic', which was released in 2017, and now, some five years later, he returns with another wonderful consignment of unholy Black Metal malevolence in the form of 'Merciless' – an exceptional offering of unapologetic malevolence that epitomises the wild spirit of an underground that Akerbeltz has never sought to depart.
While the most bland and derivative Black Metal releases are greeted with enthusiasm, news that a new Akerbeltz record is imminent barely causes a ripple anywhere. Seems nobody gives a fuck. Which underlines one of Black Metal's great anomalies – the more sincere and worthy the music is, the less likely it is to gain traction. Akerbeltz should certainly wear his uncanny lack of due popularity as a badge of honour.
With truly blood-curdling screams, third curse 'End At The Gallows' lives long in the memory, a nightmarish blast of frozen blackness that may well have been recorded by a demonic, non-human entity. The riffing is mid-paced and straightforward but those vocals take things to a whole other level. At a time when it's increasingly difficult to detect individual songs that stand out, this one is a real treat.
Proceedings continue to move on with purpose on the ensuing 'Rejected From The Vortex'. Again, the vocals are decidedly on the sick side of sane, this time a maelstrom of violence barges through the speakers, Akerbeltz taking a defiant stand somewhere between Svartsyn, Burzum and Marduk. The most Burzumesque, experimental and enchanting moments arrive during the delightful seventh incantation, 'Litanies of the Restless', but this album commands the attention throughout its nine-track, 45-minute duration. The disorientating nature of the music is enhanced by a very solid production, which allows Akerbeltz to demonstrate audibly the keen and classy song-writing prowess that has served him so well for more than a quarter of a century already and counting.
In an era when the Black Metal 'scene' is oversaturated with coma-inducing mediocrity, 'Merciless' represents for sure a welcome example of authentic, unheralded, old-school, dirty Black Metal performed with passion and style. It'll be largely ignored by the clueless masses, of course. This one belongs in the tape-trading days of three decades hitherto, not the pampered internet age.
Evilometer: 666/666