AKROTHEISM – BEHOLD THE SON OF PLAGUES LP (Odium Records / III Damnation Productions)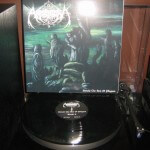 Some records are just destined to forever fly beneath the radar. And when the radar in question is the Black Metal underground, then you really are struggling to gain notice. Akrotheism's debut full-length, 'Behold The Son Of Plagues', was released on vinyl over a year ago; it doesn't seem to have registered at all.
Which is a real shame because this is an exceptional body of work. I'm sure if these guys were Icelandic and anonymous and wore balaclavas on their heads and were signed to a different label (or labels), there would be much more of a buzz around them. As it is, they are just an excellent Black Metal entity going about their business with no hype or PR or trendy connections whatsoever. And fuck all attention.
I listen to 'Behold The Son Of Plagues' on a regular basis and I would suggest that you should check out and then track down this lesser-known, sprawling, sinister and oftentimes esoteric Greek masterpiece. Superb!
Evilometer: 666/666