SVARTIÐAUDI – LIVE AT THE VOODOO LOUNGE, DUBLIN (October 31st, 2015)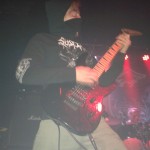 I was fortunate enough to attend the inaugural The Fires Of Samhain festival in the Irish capital last weekend, which featured a trove of bands but particularly stellar performances from Dead Congregation, Necros Christos and – surprisingly – Mourning Beloveth. However, Iceland's Black Metal terrorists stole the show.
Witnessing Svartidauði live was a remarkable, unforgettable, life-affirming experience. A veritable force of nature, they delivered their crushing set with such conviction, aggression, prowess and passion that my jaw hit the floor.
Making little of a mischievous amp, it was an utterly immense exhibition of mastery from a special quartet of musicians. Thanks Sturla Viðar, Þórir, Nökkvi and Magnús for giving me a birthday to remember.
Evilometer: 666/666