ANCIENT RECORDS – DEMO COMPILATION PART 1 LP (Ancient Records)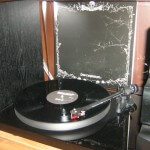 A couple of minutes into my first listen to this record, I was starting to suspect that it represented a serious misjudgement in the quality control department at Ancient Records. 'Demo Compilation Part 1' collates material that would otherwise never have been released (in other words, rejects that have been scooped up off the cutting-room floor!) and sticks it onto a 12" record for the entertainment of the small handful of people who might give a fuck. Smell a rat?
I didn't know any of this when I parted with my considerable quantity of cash (it's printed on the record sleeve). There was no information anywhere regarding what exactly this release comprised. Had I known it was merely glorified out-takes, I might have given it a wide berth. But, lacking inside information, my curiosity got the better of me and I travelled bravely via Paypal seeking a possible gem…
Sir N. of Acerbitas, Grifteskymfning, Grav (review of 'Omhulda Ondskans Kretslopp' LP coming soon), Hädanfärd and Svartrit performs the music (I use the word very loosely) here but the material obviously doesn't fit within the concept of any of those bands as none of them are credited with it. There are basically two long compositions, one on each side (doh!), which are neither music nor songs. Nor Black Metal, for that matter. More like a mindset … expressions of hate and dismay, angst and horror. The soundtrack to a nightmare. Resident Evil with a pocketful of Rohypnol.
It's truly sinister work; spontaneous, freeform and unrehearsed. A wall of crazy noise with some equally-disturbing calmer sections that some will feel should never have been released – while others might find in it something unique and special.
Personally, having got over the total shit-ness of the opening moments (both in terms of sound and composition), I'm very much in the latter camp. Definitely not for everybody, though and these curios are far from cheap, so approach with caution.
Evilometer: 444/666